Making Your Vision a Reality
Design, planning, installation, care
FREE Competitive Estimates
Fast & Responsive
Commercial & Residential
Customer Service Guarantee
Landscape Design in Middletown NJ
Our Landscape design company offers a wide range of services, including landscape planning and design, landscape installation, landscape maintenance, landscape lighting, hardscaping, water features, and irrigation. We also provide consultation services to help homeowners create an outdoor space that meets their individual needs and aesthetic goals. In addition, we often offer lawn care & maintenance services to help homeowners keep their landscapes in top-notch condition throughout the year after the initial project is complete.
Trust our local landscapers in Middletown NJ with your outdoor project today!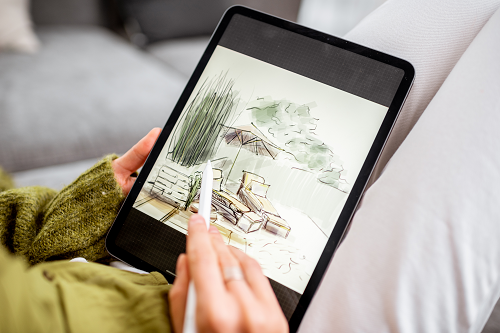 Our Landscaping Design Plan & Process
The landscape design process typically begins with an initial consultation with the client, during which a design plan is developed. During this consultation, the designer and client will discuss the landscape's purpose, desired features, budget, and any other relevant information.
1. Research and assess the site conditions: Consider existing land features, climate, soil type, sunlight, and existing vegetation.
2. Develop a plan: Create a preliminary design that meets the needs of the client and takes advantage of the natural features on the property.
3. Prepare the area: Clear out existing vegetation, level the land, and prepare the soil for planting.
4. Install hardscapes: Install walkways, patios, decks, and other permanent structures.
5. Plant trees, shrubs, and other plants: Select plants that are appropriate for the climate and soil type.
6. Install irrigation: Install an irrigation system to ensure that plants have adequate water.
7. Maintain the landscape: Provide ongoing maintenance to keep the landscape healthy and attractive.
About Our Landscape Design Company
At Middletown Landscaping, we specialize in creating beautiful, functional outdoor spaces that bring joy and add value to our customers' homes. Our experienced landscape design and installation team is dedicated to providing personalized attention to each project and creating customized designs that exceed our customers' expectations. We offer a wide range of landscaping services, from patios and walkways to retaining walls and outdoor lighting. Our mission is to exceed our customers' expectations and to bring the beauty of nature to life in their outdoor spaces.
Why Choose Our Landscape Designers
1. We are experienced and knowledgeable: Our landscape design company has a team of expert designers with a wealth of experience and knowledge. We understand the local climate and geography, as well as the best plants and materials to use in your landscape design.
2. We are creative and innovative: We strive to create unique designs that reflect each client's individual style and taste. We use the latest technology and innovative techniques to ensure that your landscape is beautiful and functional.
3. We are customer-focused: We take the time to get to know our clients and listen to their ideas and vision for their landscape. We work closely with each client to create a design that meets their needs and budget.
4. We are reliable and trustworthy: We are committed to delivering quality service and results. We use quality materials and stand behind our work with a satisfaction guarantee.
What Does Landscape Design Typically Cost?
The cost of landscape design in New Jersey can vary depending on the size and scope of the project. Generally, landscape design services can range from $2,000 to $10,000. This includes things like planning, design, installation, and maintenance. However, the cost can vary greatly depending on the complexity of the project, labor and materials needed, and the experience of the landscape designer.
What do landscape designers do?
Many landscape architects are also experts in environmental restoration. This involves restoring natural habitats back to their original condition. Landscape architects use their knowledge of soils, climate, plants, and landforms in order to create beautiful and sustainable outdoor spaces. Landscape architects need to be familiar with all aspects of land use, zoning and the environment. To ensure that their designs are properly implemented, landscape architects must be able work with engineers, architects, or other professionals.
Is it worth getting a landscape designer?
Although the fees for a landscape designer can vary, you can rest assured that they will deliver great results.
Landscape designers can help you bring your landscape design ideas to life. A landscape designer can help you design a cohesive design that includes all the elements you want. They will also assist you in creating a plan to implement the project, taking into consideration your budget and timeframe. They can also suggest plants and materials that will suit your climate, soil, or desired look. Working with a landscape architect can help you save time and money, while also ensuring your project looks its best.
What's the difference between a landscape designer and a landscape architect?
Landscape architects have a degree in landscape architecture. They are licensed by the state. Designers are typically limited to residential projects. Landscape architects can usually work on commercial and residential projects.
Our Service Area
Our landscape design company has years of experience in all aspects of residential, commercial, and municipal landscaping. We are dedicated to providing their customers with quality workmanship and excellent customer service. We offer landscaping services throughout Monmouth County, New Jersey and the surrounding areas:

Atlantic Highlands, Colts Neck Township, Fair Haven, Hazlet Township, Highlands, Holmdel Township, Keansburg, Red Bank, Rumson, Sea Bright, Tinton Falls & More!
Connect with us for a FREE estimate today!